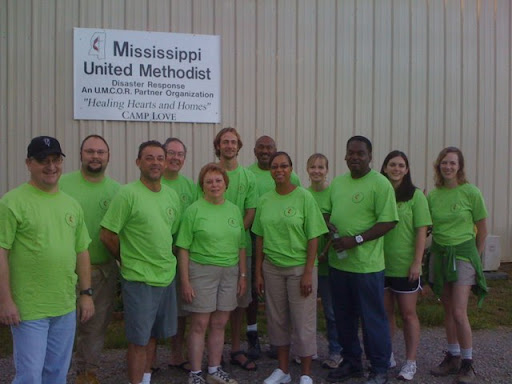 GeoTagged, [N30.47399, E89.10821]
Midway through our week, we have found a nice rhythm. Today is the day we work until lunch and then then take the afternoon to learn a little more about Gulfport and the recovery that's taken place over the last four years. The economy is limping along and the strong survivors seem to be the casinos, bars, tattoo parlors, liquor stores and the airport.
*****************************
There are bugs here. Love bugs. Have you seen these things?? They are disturbing and shameless. They join rear ends together and crawl, fly and hover in mid-coitus. There are a few lone single love bugs, but mostly, we are surrounded by their lust. I'm not sure what point God is trying to make with their existence, but I'm willing to believe that there is one.
*********************************
As you can imagine, supplies around here are limited. We discovered that the best way to mix a five gallon of paint is by rolling it around on the ground. And really, if you want to do it right, you should kick it around and then maybe turn it into a game of curling.
**********************************
We didn't see Jerry much yesterday, as his grandkids were with him. But, we did hear one whopper of a story about a rabbit. It was hit by a car, severing it's back leg nearly completely. Jerry took it, tied it to a piece of wood and sewed its leg back on. When he untied it, it got up and hopped away.
************************************
Last night, we went to the pier to see the coast and breathe the ocean air. It was quiet and windy and the stars showed off their brilliance. On the shore, the lights of the casino outshone the oil refinery. The sky was particularly dark and velvety and we were awakened to the vastness of the heavens.
More soon.
Blessings to you all.